"There's a lot of energy around the customization of an experience for fans so they're having the best experience possible, and that's what I'm most passionate about." 
When the pandemic hit in 2020, sports and music fans everywhere mourned the loss of in-person events. In this episode, Sally and Brandon discuss the epic return of live entertainment and its impact on traveler expectations — especially when it comes to customized traveler experiences.
 
Our hosts interview Erin Zinser, vice president of partnership activation for the Global Partnerships division of AEG Worldwide, the world's leading sports and live entertainment company. Listen in to hear Erin's perspective on how partnerships with event management experts like AEG Worldwide can leverage the power of customized experiences to drive demand and create incredible memories for travelers.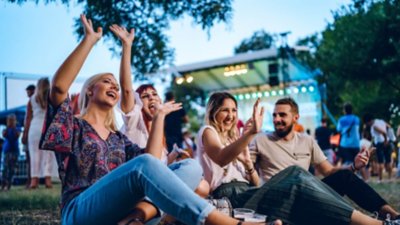 [00:00:04] Sally The travel experience is powered by all of you. Welcome to Powering Travel, brought to you by Expedia Group. I'm Sally Smith.  
 
[00:00:11] Brandon And I'm Brandon Ehrhardt. Together, we'll explore how experts are evolving the industry and discover the latest trends in hospitality. We've got two box seats for you for the best show in town. Powering Travel is next.
 
[00:00:28] Sally Welcome back to Powering Travel. We're so glad to be back and with a guest that has a ton of perspective when it comes to the changing traveler expectations and what customizations really look like in the event space. I'm excited to talk about this because I believe that these experiences and activations will become more important as travelers expect these unique and different things as they travel.  
 
[00:00:52] Brandon Yes, I was expecting a cool conversation and we got it. I wasn't expecting to learn so much. I'm very excited for today's episode. I'm a concert nerd and you'll learn more about that. But first, let's talk about our guest. Erin Zinser is Vice President of Partnership Activation for the Global Partnerships Division of AEG, the world's leading sports and live entertainment company. Acting as an internal agency for AEG Global Partnerships, she oversees worldwide sponsorship sales and activation for over 130 world-class platforms across five continents and numerous other assets, including venues, sports franchises, events, tours, festivals and digital content among other AEG Holdings. Erin's experience and leading global partnerships spans beyond AEG, including her time with various teams in Major League Baseball. Go, Cubs, go. Let's jump into the episode. 
 
[00:01:47] Sally We are so excited to have you with us today, Erin. So if you could start by telling us a little bit about who is AEG.  
 
[00:01:55] Erin Sure. So AEG, Anschutz Entertainment Group, also known as AEG Worldwide, is an American global sporting and music entertainment company. It's the world's largest owner of sports teams and sporting events. And under our AEG Presents umbrella, it's the second largest presenter of live music and entertainment events.  
 
[00:02:13] Sally And what's your role there?  
 
[00:02:15] Erin I sit on our global partnerships team. AEG has seven main divisions, which make up the entire structure of the company. Global partnerships, where I am a part of that division. Also, we have a facilities division, a sports division, a music division, real estate division, entertainment districts and a ticketing and technology division. Under each of these divisions sit in different components of the events and live entertainment lifecycle from the building and the entertainment districts where the events are taking place to the promotion and the creation and execution of these events, the ticketing of these events and then the sponsorships connected to them. Each plays a crucial part of the puzzle and bringing all of these things to life. Global partnerships, where I sit, manages all of our sponsorships. We call them partnerships across all of our different divisions of the company. So anything advertising related is the best way to kind of simplify that.
 
[00:03:05] Brandon It sounds like among all of these divisions, you've got plenty of bases covered. Tell us more about the scale.  
 
[00:03:11] Erin AEG represents over 130 properties on five continents, including venues and facilities in North America, Asia, Europe, South America and Australia. We have a media division which encompasses a television network which we partially own, a content studio which can produce anything from a 30-second commercial spot to an influencer campaign to a full-length feature film. And the list goes on. We are ever expanding.
[00:03:36] Sally That's incredible. I'm curious, coming out of COVID, right, bit of a roller coaster two years, to say the least. When you're putting on these events, whether they be at your properties or another event, how have you seen them increase demand in the markets and those local markets? What do you see when you put these events together?

[00:03:58] Erin Sure. So during the pandemic months, live entertainment, as we all know, completely halted. And fans both on the sport side and the music side really, I think, lost a piece of themselves that we didn't really know they were going to lose. That was so crucial to people's happiness and positive mental health. We actually did a study of positive mental health, music, and coming out to events, and we really saw that people were missing it. So when the live events started to come back and shows started to be rescheduled, people could not get tickets fast enough. Like they literally sold out in minutes and artists were adding shows to the calendar to be able to accommodate the demand. The biggest issue that AEG had was that there weren't enough actual days in the calendar year to fit all of these shows and sporting events, all in the venues where they were looking to take place. The comeback has been super incredible for our local markets. And as I said, the demand is so high and it's so amazing to see people get back out and really love being out at shows.

[00:04:56] Sally Has anything changed post-COVID with just how artists are looking at shows or how you're looking at booking events? Anything free versus or post versus free, rather?

[00:05:05] Erin Yeah, I think one unique thing, especially on the global partnership side that we're seeing with artists is that they're really leaning into causes for a cleaner venue or sustainability or whatever kind of makes them tick. They're leaning into partners that can help them bring that to life. Similarly, we are, as global partnerships, approaching partnerships in a really strategic way. As eager as people are to get back out to live events, I do feel like people are still a little bit cautious. They care more now about safety, about cleanliness, about the crowds and how and where they're going to be sitting, about the convenience of getting to an event and leaving an event. And then when they're choosing to come out, they're really making it kind of a night out decision, like all of the pieces of the puzzle have to be at play. Because of this, we at AEG have really made an effort to partner with brands that are creating that welcoming environment or enhancing the experience, or even a brand that can alleviate a pain point for people and provide surprise and delight. We have a program running right now that if you're coming out to a Kings game, Uber is giving you a free ride to Crypto.com Arena just because it's a partnership that we have with one of our brand partners, American Express, and they're covering the ride for people just to come out to the game.  

[00:06:22] Brandon Yeah, it's amazing.

[00:06:23] Erin Yeah, it's so cool. And it's a surprise and delight — just a nice, easy, fun way to get to the game for people. So we love that. We also have a lot of brands that are leaning into creating lounges or relaxing spaces as part of their rewards programs. So if you are a rewards member for Marriott, for example, you can have a place to rest your feet or get some air conditioning at a festival or get a glass of water. And it's just a nice kind of way to make people feel comfortable about being out at an event again.

[00:06:53] Brandon Yeah, that's super insightful. And obviously like us as consumers, lounge access at an event especially once crowded is just like such a game changer. Like there's no reason it should just be in the airport. So great idea. How is AEG helping push sustainability and really being mindful of the impact of events?

[00:07:13] Erin Sure. I think a great example of this is what our global partnerships team has done around our festivals. We obviously had our desert festivals come back after a hiatus of COVID for two years, so we just wrapped up Coachella and Stagecoach in Indio, Palm Springs area. We are leaning into all the reusable water bottles. No plastic anywhere. Even the beer cans are recyclable. It's really been an initiative for us to lean into initiatives like that for our festival activations. We've seen a lot of partners want to lean into that space, which has been so great. And then we do have artists in our touring portfolio that have asked our global touring team like, is there something a venue can do when I am going on tour that does give back to the environment? Is there a way to offset a carbon footprint? Is there a way that we can partner up and create something special together? So more to come in that space but I do think it is an important initiative for us.
[00:08:15] Sally What I think is interesting to you, you just mentioned the festivals, Coachella and Stagecoach, is that when folks are traveling to these from the minute they step foot in the destination, it feels like the experience starts even before they even get to the main stage, whether it be their vacation rental or their hotel or just some of the things going on in the market that bring in the spirit of why they're traveling in the first place. What do you think hotels and vacation rentals or those partners can do to maximize the demand for these types of events? And also travelers today going to these events, what do they want? What is new and different that they're expecting when they're attending?  

[00:08:53] Erin Sure. So I think tentpole events is something that AEG does really well. I mentioned the desert festivals in Indio, Palm Springs area with Coachella and Stagecoach. And we also have award shows that happen on our L.A. Live campus quite frequently, like the Grammy Awards and several others. I think building around those tentpole events and ways that we can work with the local market hotels, restaurants, travel companies, any type of local businesses, there's kind of two ways to do it. Companies like airlines, cruise lines, carloads of companies can really lean into this as well. The first kind of pillar that we would lean into is a partnership or a sponsorship, which is where I kind of sit at, brands can activate pop-up activations onsite at the festival grounds or even like when you're walking into the hotel, like create an experience for somebody or a vacation rental. But the important piece there is that they do have a partnership with the event in order to create that IP connection. So if it is a hotel brand and they are doing a pop-up at the festival activation that they've worked with, you know, call it Stagecoach to make sure that they can use their name in the appropriate manner. The other kind of way that we can set up a relationship is the B2B side, where companies like AEG can partner with the hotel brand to book all of the room nights for their staff and partners and clients that are coming out with a specific property or with a specific chain. Similarly, with an airline, if we do have a partnership with them on the business side, we can book all of our flights on that airline or all of our partner flights and the airline, whatever the case may be. So I think we can kind of approach it in two ways, but there is definitely success in both pillars.  

[00:10:29] Sally I like the way you describe that, too, because it sounds like there can be a lot of creativity as well, so you can figure out what's going to work best for your brand, the audience you want to target. I just like the diversity of how you described all those partnerships.  

[00:10:41] Brandon And it's always really obvious too, right, like when it's like a legitimate partnership where there's just a better feel to it. It feels authentic. And yeah, I mean, Coachella and Stagecoach, I think they may have passed me by. Sally, first off, you said people start preparing for Coachella when they step in, but forget the main stage. People start preparing for Coachella when they start buying outfits for Coachella or when they get cast on The Bachelor.  

[00:11:05] Sally This is fair. This is fair. I mean, yeah. I mean, I only know because I follow everyone on Bravo, so I might have just let out too big of a secret there.  

[00:11:14] Erin I do think that's interesting, Brandon, because we have a brand that leaned in heavily to the get ready for festivals kind of campaign because you're right. Like when people start when they buy their tickets, which is so far in advance of the festival, and this could be the same for any event that's taking place, the concert or whatever people get excited about, they do start planning ahead for the travel. Like how are we going to get there? What airline are we going to take? What hotel are we going to stay in? Are there discounts? What am I going to wear? Is there a retail partner of the event that I can lean into because it'll have the band's name or the event's name on it? All of those components kind of play a part. And we did have a brand that really bought into that. Like, hey, people, get ready to go places. Like they get to book their travel, they are ready for it. So can we start marketing to them in advance so that they are using us as part of their Get Ready campaign?  

[00:12:05] Brandon It's really exciting and it's so interesting you say that because I think that the feeling that you get when you book that concert ticket or when you book that trip, especially with your friends, like it's electric. It's almost not as good as the event, but gosh, it like gets you through that rough Tuesday. And I know for Expedia Group, like we're rolling out trip awards, which allows you to plan in advance, you know, different stays. So it's live for vacation rentals that'll be going live on conventional lodging and just for trips in general across Expedia Group. And I think with events it's really the same thing. Like you have a group of friends. Some are going to be available are interested in those artists and like that feeling when you get that connection of like three or four friends or your wife or your family to book that ticket, like, it is an exciting moment. It's cool.  

[00:12:51] Erin It is. It's really cool. And I think if I can take us back a little bit about what AEG does outside of just events, because what you're talking about right now, that lifecycle and that excitement like AEG, we are at its core. We're a real estate company. We own the buildings and the kind of the place where the events take place. But we also have the things that go through those buildings, right. So like the sports teams, the concerts that people get excited about, the festivals, the family shows, we also ticket for those events. And we manage the talent or own the teams that are playing in the buildings. So the fact that we can have you purchasing the ticket and getting excited about it, but then also control the experience of who you're going to see because we manage that artist in our global touring portfolio or own the sports team with, for example, the L.A. Kings. But then also we know that you're going to our building, so you're going to have a wonderful experience. It really creates that customized and unique experience that I feel like only AEG can do.

[00:13:52] Sally It's been really interesting listening to Erin talk about some of these unique customer experiences. And there was also a term surprise and delight that was thrown out there. And I think that's really powerful because in order to do that, you really have to understand your traveler. Who are they? What do they care about? And what will surprise and delight them? I know that at Expedia Group we're certainly trying to understand our traveler more. I know many other companies are doing that as well. I found it interesting when Erin was talking about lounge access or activations around loyalty programs. Brandon, I'm really curious to get your perspective there and the loyalty space.  

[00:14:35] Brandon It's a great question. Loyalty is so much more than price points and perk benefits for travelers. If you think about the basis of a loyalty program, it's how you feel. Like how do you feel when you get recognized? How do you feel when you get upgraded? How do you feel when they do something to surprise and delight you to your point? And I think the lounge question is such a good one. Travelers, concert goers, people at a sporting event are all at different places in their life. There are times where you want to be sweating among the masses, and there are times that you're looking for a little bit of an elevated experience. And I think, you know, speaking about lounges specifically, it's a great way to really extend a travel based loyalty program to something that's outside travel, like a concert. They're adjacently related, especially with so many people traveling to a concert. So it was really cool to hear a little bit more on that. I know at Expedia Group that's something that we're focused on really generating better experiences overall and there's some exciting things with the launch one key that are coming. So looking forward to sharing more there.  

[00:15:36] Sally And I think to Brandon, hearing you talk from a revenue management perspective, whether it be for an event or a lodging partner or a VR, partnering in this way really helps to create value, right, and drive your revenue strategy, but help the consumer understand the full benefit that they're getting. And surprise and delight creates long-term value as well. So lots of opportunities here. And it's been really fascinating to hear more.  

[00:16:01] Brandon So much synergy. And, you know, as we see the pace of change with loyalty programs changing and the industry at large, there's going to be so much opportunity in this space. So I'm excited to look back in a year and see how we've seen events and, you know, loyalty playing and things like sporting events and concerts.
[00:16:23] Sally I'm curious, though, talking about all these projects. What might be on your radar next, whether it be in your real estate or whether it be in advance? Where are you looking to if you can share what you want to do next in the future?  

[00:16:36] Erin So I think there is a lot of energy around the customization of an experience for fans of at least me personally. This is what I am most passionate about. When I pick up the phone to order food on whatever outlet I'm using, and they can guess what I am already feeling like eating at that moment. That to me, like taking that kind of you have to think about it like they already know you that well. Taking the thought process out of it is amazing to me. Like the fact that we can know and understand so much about our fans because we do control so much of the lifecycle and we can provide that ride to the event because we know you usually take transportation of some kind, a dedicated entrance for you to come in because we know that you are a card member or a rewards member of some platform. We know what you want to order when you get in the arena. So do we have a mechanism that you can do that before you get there? Like, is there a way that we can know that you also need a ride home and provide that kind of ease of transportation or ease of service? And so the future for me and what I'm most excited about is just creating that customized and optimized experience for a fan so that they're really having the best experience possible, utilizing technology and data and everything we know about them at our events.  

[00:17:53] Sally I think that's really important and certainly something we're looking at too. We're talking about that traveler-first mindset. Very similar to what you're talking about. How do we make sure we make it easy, frictionless, and they can just really experience the joy of wherever they're going or how they're getting there. I'm curious for you. I love the technology, the customization. I think that's super important. And how does that combine with traditional hospitality once they get to your centers, your events? Because I think a lot of folks might be listening in that are adopting technology. They also have the people/hospitality side of the business. And how do those two come together to create a really memorable experience?  

[00:18:31] Erin I think there's nothing like that in-person connection. I mean, we definitely saw it in those pandemic months where we were virtual and we were trying to keep that IRL [in real life], if you will, all the cool kids saying, connection to people but it was not the same. Coming back to live events where the energy is really there, you're feeling it. It's like goosebumps. And being able to have that with somebody in the room, hospitality is more important than ever. And we have seen a lot of our partners lean into more of these VIP experiences money can't buy. How can I get my clients to a certain place offsite or in a different city or whatever the case may be, so that they do have that one-to-one connection. So while technology and understanding all of the nuances about our fans coming through our venues and what their needs are is so important. Once they're there, we still really want to give them a hug and see them in real life. So I think that two really play nicely into each other.
[00:19:30] Brandon That's awesome. Okay. So shifting gears a little bit. So one question and I'm going to highlight a specific venue to maybe route it in a little bit more detail. L.A. Live, for example, one of the biggest venues in Los Angeles. As you look at consumers attending L.A. Live, how have you seen them change in the past five years and how is AEG adapting?  

[00:19:52] Erin I mean, there's a lot to unpack in terms of when somebody, as we talked about that lifecycle, right, when they're booking the ticket and then they're navigating how they're going to get there and kind of all the pieces of the journey. I do feel like as AEG we are leaning into partners that can create that ease and that frictionless consumer experience to what Sally was mentioning. I think the frictionless part of that is really important. Here at L.A. Live, we do have a number of venues that people can come to shows and attend shows in. We also have a hotel on property, two of them actually, and many in the surrounding area one block away. We also have restaurants that are here, so we make it easy for people once they're here to not have to leave. We have everything that you could possibly need, including retail and everything in a walkable distance. So creating that ease of travel, ease of attendance, ease of stay, ease of whatever part of the journey they need, I think is really easily accomplished here at L.A. Live. I would say we can do that at our entertainment districts around the world. So we have the O2 in London where we have all these components in place as well. We have an entertainment district in Berlin. We're looking to build one in Nashville right now. There's just several other projects that are popping up in this entertainment district vein, which do what it does, create that kind of one-stop shopping, one-stop experience environments.  

[00:21:19] Brandon Awesome. So one of the things that we want to do with this podcast, we want to make sure that there's connections made and you keep talking about partnerships. And so what is AEG looking for in a partner?  

[00:21:29] Erin AEG, it does a great job. I've been in the sponsorship partnership business for a very long time. I did nine seasons with Major League Baseball, a couple of different teams. And then I've been with AEG for nine and a half years now. And I think we are one of the best in the business at listening to our partners' deals. So when we partner with the brand, we want to understand what their key performance indicators are. What are their objectives? What markets are you targeting and who are you trying to reach? What would be successful for you? And asking those questions upfront to know that if we're going to pitch you something in any of the divisions of our company, that we want it to align with what is important to our partners. It makes a huge difference. I have been around many sales people and in my life that have thrown, let's call it spaghetti at the wall and it does not stick because they were not listening. And I think AEG does it better than anyone where we do take the time to get to know our partners. I would say that most of my clients are also my friends. Like they can call me and throw an idea at me and I will find a property that we own or manage or something connected to that would be a fit for them. So the listening component is really important there.  

[00:22:46] Brandon It sounds like you guys really have a 360 view of partnerships. And that's something that we pride ourselves on at Expedia Group. You know, for a potential partner, like how do they make contact? How do they get involved with AEG to see what opportunities could be available? 

[00:23:00] Erin I would say if there is a particular property that is of interest, there are global partnership sales and activation people that kind of oversee all of the pieces of the puzzle tied to those properties. Our global partnerships team is large and we have several offices. We are based here in Los Angeles. But if there is something that is of interest to a brand, a hotel brand, an airline, any kind of travel brand, we are available or easy to reach and to find anywhere in the world. We are a global company and if there is something that does pique someone's interest, Global Partnerships is the division to start with.  

[00:23:36] Brandon Got it. So if you think about this release, this connection of listening and hospitality, it sounds like you guys really have a lot of partnerships that you're proud of. What are some of the ones that you'd highlight? 

[00:23:48] Erin Yeah, I would definitely highlight our partnership with American Express. They are our largest partner and they span across many divisions within the company. I mean, most of them, we just love our partnership with them and get along with the team there so well. I would highlight Marriott. They are a huge partner of ours as well and I have had the pleasure of working on that relationship for many years. Gotten to know the team there very well. We also have a great partnership with Allergan, which is another one that I have overseen for several years. They are leaning into a lot of activations around their rewards program, which has been so interesting and a shift for them from what they started with us. So it's been a great partnership to work with them.  

[00:24:30] Brandon There are some great ones. In terms of hospitality partners who really excel at bringing it to life, is there anyone else you'd highlight or any experience that you've had where you're just like, gosh, this is exactly what AEG stands for? 

[00:24:43] Erin I would say the Marriott partnership that we have had with them over our festival activations in the past, call it five years, has been incredible. They have a kind of two-pronged approach to their activations with our festivals. One is based around their Bonvoy membership program, where their Bonvoy members can go in and purchase first at the best of its class, first of its kind experience packages that do encompass the stay. Sometimes it's a camping stay, but it's a glamping setup where it is a tent that looks like the inside of a Marriott Hotel. And then it includes transportation and food and beverage and the best tickets to the show and kind of all those plus plus moments. They also have an onsite activation that they have implemented with a handful of our festivals in the past where they have built out these incredible structures that do look like they're hotel brands. And they do create that oasis for people when they do need to get some air conditioning or get a glass of water or have a fun, unique moment while they're on the festival grounds. So I think they do just an incredible job with the activations that they provide in the ground hospitality space.  

[00:25:50] Sally Summarizing what I'm hearing there, it sounds like they're working very closely and they're bringing in the elements of the event or whatever is going on and personalizing it, making people feel special. And going back to what you said earlier, surprise and delight. So really thinking about the attendee, the traveler and their partnership with you. I love those examples. I think they're really powerful. 

[00:26:12] Erin Yeah, absolutely.
[00:26:14] Brandon All right. We have a few questions that we want to ask to get to know you. I'm going to give you three options. You're going to rank them one, two and three. And I want you to rank them as your preferences for attending an event. Would you rather have easy in, easy out transportation, good seats like lower bowl but not front row seats or an amazing food and beverage setup? Rank them one, two, three.  

[00:26:38] Erin Excellent food and beverage setup for sure number one for me because while I love a good chicken tenders and french fries situation and elevated food and beverage setup is always an amazing surprise. So that is one. Easy in and out for sure, number two. The seat location, number three.  

[00:26:58] Sally Okay. So our next question is, what do you see as the next big trend powering the travel industry? 

[00:27:04] Erin Okay. So this one is something I recently listened to on another podcast. And it was the blend of business and leisure, and I could not agree with this trend more. I think people now, because our worlds have become so virtual, are working from anywhere. So if there is a way for hotels to create a business component to this stay and the leisure component to the stay and it can be effective in both areas, it would be amazing. So creating that relaxation moment of being on vacation, but then also maybe it's like a Murphy bed setup where you can then host a business meeting in your hotel room and it's not awkward. So I think that blend of business and leisure and creating that moment where people can have both and no matter where they are in the world is something that I would love to see take off.  

[00:27:57] Sally That's great. I've actually seen our hotel partner look at redesigning the desks. Right. Maybe I need a desk that goes up and down. Maybe I need a feel of someone's home in my hotel room because of this bleasure trend. So it's very interesting. Secondly, what's the most memorable trip you've ever taken? 

[00:28:16] Erin So it was definitely my honeymoon. It was the last stop on our honeymoon, but it was to Indonesia, specifically an island called Sumba. We went to a resort called Nihiwatu, which is I think the only resort on the entire island but for sure on this side of the island. And it is perfectly placed in what is known as the best surf break in the world. So it is a big surfer destination. This hotel is number one and just stunning. And when I've talked about this before, you're sitting having dinner and there is not a light around you, not a boat around you, like you're just completely in nature, which is so incredible. But the proceeds, a lot of the proceeds from the hotel go back into the community. And they have done an incredible job of not only hiring the local people in the area to staff the hotel but also giving back to the schools, building medical facilities and bringing treatment centers to the islands, teaching English. They allow the guests that come to the hotel to go volunteer and feed the kids lunch and just play with them in the community, which is so fun. So I think that was so memorable for me because it was an amazing trip. Yes, a beautiful resort. Yes. And that part of it was fantastic. But the community component and being able to give back and really immerse myself in the local community with my husband was just so special.  

[00:29:46] Sally An immersive experience. That's something else we've chatted about actually on another episode, how important that is for travelers. I love that story. And finally, what's the one item you cannot travel without?  

[00:30:00] Erin I always have a toothbrush and I always have toothpaste, like literally in my purse at all times.

[00:30:07] Sally It's important.

[00:30:07] Brandon I wasn't expecting that to come up, but it's so functional and so true.

[00:30:14] Sally Erin, it was so great to get to know you and what you do. Super fun to chat with you.

[00:30:19] Erin Thank you guys.
[00:30:22] Sally Brandon, that was a powerful conversation coming two years after the pandemic. And especially to hear from another industry leader how excited travelers are to take that next trip and experience that next big thing in person and how powerful that is for our lodging partners, our VR partners, plus our destinations. So really, really fascinating takeaways from Erin.  

[00:30:44] Brandon Exactly, Sally. And, you know, we had high hopes for this episode and it definitely hit mine. I think my big takeaway is about the funnel and how there's opportunities to engage in the planning and the actual attendance of the event after the event. And it just seemed like there's just so much to do in the space and AEG is starting to head in that direction. 

[00:31:05] Sally Absolutely. And I think, you know, your point is so true. Folks are getting excited for the trip and they may have booked for maybe an event or a concert or whatever it might be but there's such an opportunity for the properties where guests may be staying to surprise and delight and to plug in to these events and build that value and build that loyalty. And I just think it's really fascinating.

[00:31:28] Brandon And Sally, before we go, I throw another curveball at you. It's only our third episode. I want people to get to know us. What is the last band shirt that you purchased?  

[00:31:38] Sally Well, I will say the last band shirt that I wore was from The Police, a concert I went to in San Diego a few years back. A fantastic concert. And I think the t-shirts's cool. So, you know, I saw rock it, here and there.  

[00:31:52] Brandon That's much cooler than the New Found Glory t-shirt I was wearing this weekend in Wicker Park where someone stopped me and it was like, hey, old man, nice shirt. I wouldn't think you like pop punk. That was essentially the gist. Or maybe that's just how I took it. But The Police, that's an amazing shirt. Thanks for tuning into our episode with Erin Zinser from AEG.  

[00:32:16] Sally And if you're interested in learning more or partnering with AEG, definitely head over to their website. We hope you enjoy this episode of Powering Travel. We want to hear from you. So connect with us at Powering Travel at expediagroup.com. Subscribe to get notified when new episodes are live and be sure to rate and review the show. A huge thank you to everyone Powering Travel. Thanks for listening. 
Meet your hosts
Sally and Brandon love keeping up with the latest news in travel. They're on a mission to interview experts across the industry about what's trending — and they can't wait to share what they learn with you. 
Sally Smith
Expedia Group Senior Director of Market Management
Sally launched her career in 2005 with Starwood Hotels & Resorts and joined Expedia in 2012, where she's earned a decade of experience in hotel revenue management and sales strategy. Sally's passionate about travel — and about technology's potential to benefit the industry. She lives in Lake Tahoe, CA, with her husband and their two young children.
Brandon Ehrhardt
Expedia Group Senior Director of Partner Programs
Brandon spent the early days of his career designing revenue management strategies for United Airlines and currently heads up our platform loyalty program. While with Expedia Group, Brandon has played an integral role in scaling our loyalty program, launching research projects, and leading strategic initiatives. Brandon currently resides in Chicago, IL, with his wife and a rambunctious toddler.
What would you like to hear next?
Have ideas for new episode topics or guests? Tell us your suggestions or feedback. We're all ears.
Was this page helpful?
Tell us how we did so we can improve our site.