"We have two conflicting trends: Travel intent is very high, but travel is expensive — not just car travel, but travel in general. Consequently, we're going to see people choosing to travel within a 100-mile radius from home."
Car rental demand and consumer behavior during the pandemic changed the industry. The demand slowed, then sped up so fast that rental car fleets had to practically peel out of their parking lots to keep up. How did they handle the impossible unpredictability?

In episode six of Powering Travel, Ricardo Casco, vice president of international and online travel sales for Avis Budget Group, gives us an inside look at trends and insights in the car rental industry during COVID-19. Listen in to learn:


How the car rental industry addressed the unique challenges presented by the pandemic

New strategies for the car rental industry during the pandemic

Why many people are still choosing to travel closer to home — despite lifts on travel restrictions


Tune in and listen until the very end for bonus interviews with professional race car drivers Stef Wilson and James Hinchliffe.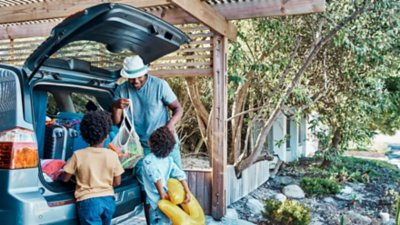 [00:00:04] Sally The travel experience is powered by all of you. Welcome to Powering Travel. Brought to you by Expedia Group. I'm Sally Smith.  
 
[00:00:11] Brandon And I'm Brandon Earhart. Together, we'll explore how experts are evolving the industry and discover the latest trends in hospitality. So bypass that rental car counter. Your convertible is waiting. Powering travel is next. On today's last episode of Season one.  
 
[00:00:31] Sally Brandon I can't believe it's the last episode. This has been such a highlight over the past few weeks.  
 
[00:00:36] Brandon It is, and it's a highlight that I am hoping to continue to do. But gosh, we have had some fun, haven't we?  
 
[00:00:41] Sally So much fun.  
 
[00:00:42] Brandon We're going to continue today. Let me tell you more. We're going to discuss an area of the travel industry that's been on the rise over the pandemic, rental cars. So we've seen how drive markets have become more popular for travelers looking to still get out but maybe stay closer to home. And at the end of this episode, who better to ask about trends in rental cars and driving than drivers in the Indianapolis 500? We will do that at the end of this episode, so stay tuned. But first, Ricardo Casco from Avis Budget Group will join us. Sally, tell us more about Ricardo.  
 
 [00:01:14] Sally So, yes, we are joined today by Ricardo Casco from Avis Budget Group. Ricardo is the Vice President of International and Online Travel Sales for Avis Budget Group. In this role, Ricardo oversees the company's initiative to generate and grow business from a diverse portfolio of over 500 global customers across the Americas, Europe and Asia Pacific. The market segment he leads include online travel partners, global brokers and tour operators, as well as cross-border partnerships. Ricardo joined the Avis Budget Group team in 2010 as director, and he comes with an extensive background from the travel and customer industries with companies like Discovery Communications, LatAm Airlines, Time Warner, and Procter and Gamble. So I would love, Ricardo, if you could talk a little bit about Avis Budget Group and what your role is there just to kick us off?  
 
 [00:02:09] Ricardo Yeah. Let me give you the 5 seconds. Advertising. So about the Avis Budget Group. And first, we think of ourselves as a leading global provider of mobility solutions. So we run or we operate three of the most recognized brands within the industry. That would be Avis, Budget, and Zipcar. So our brands represent an ecosystem of about 11,000 locations in about 180 countries. We've been doing this for about 70 years. We are committed to innovation and moving the future of mobility forward. That's what the company is and what I do. I focus on two areas now. One is international sales, so cross-border. So basically think of somebody coming out of Europe, Asia Pacific, Latin America into the U.S. He will go to my group. So you can imagine how exciting that was in 2020 and 2021. And the second part is online travel distribution. So basically managing a relationship like with you guys with Expedia.  
 
 [00:03:13] Sally I love it. You've had a pretty slow couple of years, I'm sure, right? Car rental was not popular during the pandemic.  
 
 [00:03:21] Ricardo I have to tell you, thank God and for you guys, because back in 2020, when the whole pandemic began and we were doing great and how people do, you know, everything shut down. So the pain that we felt into the U.S. domestic market, and so imagine myself trying to explain, you know, our performance from Europeans to Asia Pacific people coming to the U.S. or like, and my number just dropped like 95%. So it wasn't fun to do that but on the upside, online travel distribution and Expedia drove it off recovery. So that was a nice story to tell. And now kind of, are we just going back to normal. You know, when when those COVID restrictions were lifted like a few weeks ago and now, you know, inbound began to be a popular topic again.  
[00:04:11] Brandon Can I dive in there because I think rental cars had this incredible story where, you know, I think at the onset of COVID, people weren't really sure what they were going to do. And then these people were in the cities and people who just wanted to get out from where they were to say, I'm going to go rent a car. And so you had almost like this boomerang where some initial quiet and then this surge of demand, at least from what I saw from my perspective. Take us through your shoes. What were those 18 months of COVID like?  

[00:04:43] Ricardo  So the first thing that the company did, and I guess our CEO did properly is is, so luxury demand collapsed pretty much. We adjusted our feet and we reacted properly. Then, you know, the recovery began quite quickly and it was really complicated to manage because you do get a massive upside on very popular destinations. Like, you know, a lot of people are going to like the outdoors in Denver or Florida, you know, so you have this concentration of people going to a specific location which created operational complications. And our main business is always being airport rentals and airlines stop pretty much. And everybody began to rent into a, into neighborhood, neighborhood location. So we need to relocate everything. You can say, you know, looking back and well, I suspect that yes, it is, I guess. And and now because if you think about it, you know, you went to the lockdown and people began going crazy within 30 days and being locked down with your kids and your family. And and and I, at least I have it easy. I mean, in Miami everything is open. But, you know, going back to places like New York, where, you know, you live in an apartment and this is complicated, right? So people just try to find an escape. For those 18 months. I did like four times what I never did before. I used to drive from Miami to Georgia. I'd spend one month with my family and then come back and it's like a ten-hour drive. I did it overnight. It was for sure, a challenging experience. And now we are going back to normal. And funny enough, we've seen something similar and maybe not so much for the pandemic is is I think it is just because everything's so expensive now and inflation and all of that so we kind of see the same phenomenon, you know, on people taking vacation in a radius of 100 miles from home. Again, it's interesting because we are going back to what we said with pandemic now but now because a different driver.  

[00:06:35] Sally Have you seen any other changes in behavior post-pandemic and I'll give you a little story about myself. I actually was renting through Budget Group. It was about a year into the pandemic similar to what you were expressing earlier. I wanted to get out somewhere. So a dear friend and I went to Arizona and we wanted to rent a car and we thought, you know what, we're doing the convertible, we're going to do it. We're going to upgrade or get in the convertible because this is going to be incredibly memorable. And we want to travel. We want to be outside. Now. We kind of changed what we would normally do on vacation, and it was fantastic. We had the best time, great car, great experience. It felt very safe while doing it, which was important at the time. Anything else that you've seen that consumers are willing to pay for or maybe not pay for just coming out of the pandemic and what's their top priority?  

[00:07:27] Ricardo We began to see like longer rentals. You know, like way longer rentals, like people were taking our car and just holding on to that for a long period of time. Again, going back to the example that I told you before, you know, even myself, like I used to drive to Miami, to Atlanta, Georgia, and I stayed there for like three or four weeks and I ended up keeping the car for three or four weeks. But like myself, there are many of us that expanded the whole thing, holding on to the car because, you know, remote working. So that's the number one priority. The other, the thing that actually caught my attention and this didn't come from me. I was reading an analysis from a consulting company about, you know, segments and there are driving recovery. And two of them are very predominant. Right. Number one is the younger population. And I don't know what you define by younger, like 18 to 30 or 35 maybe. You know that does make sense, right? You know, millennials are older and Gen-Z's. You know, I just want to get out of here. The second one is for wealthy people. I never read it like that before, but you think about it going back to what we talk about and inflation and raising fuel prices. So now people would maybe make more means, you know, and have it coming back faster. And also they have the capacity to go pick a car class and, you know, a senior tour type of car types. That one for me is interesting because for the first time, I don't see like Baby Boomers being part of a driving force in troubled recovery. That specific group of people being, you know, again, a driving force in everything travel related now is coming from all these high, high costs of travel to complement that is a lot of leisure travel. Right. And so commercial travel is taking a little bit longer to come back. It's in the process of it. But because, you know, you have travel policies and travel restrictions and people working remote and at that concentration of leisure, it's higher, which, you know, is good. It's just that they have a different booking behavior, right? They're booking in or on weekends or not so much on midweek or Mondays or Tuesdays. 



[00:09:33] Brandon You have the gas prices. We've seen that impacting the rental business for this peak summer travel period of 2022.  

[00:09:41] Ricardo I think we have two conflicted trends. Number one is travel intent is very high. If you think about it, this is the first summer vacation since COVID. That's number one. The second one is expensive. And I'm not talking about the car rental, but travel in general. But these are careful planning and sentiment about these rising fuel prices and inflation. So if you think about it, the consequence of one and two is what we just talked about. And we're going to see people again choosing to travel within this hundred miles radius from home. Talk about inbound travel. Like if you want to come here from Europe or Latin America, it is very expensive. I know it's not because the car rental is expensive. Just getting here and you know an airline ticket is like, I don't know from Brazil or Europe, but like in a basic economy would be like a thousand bucks, 1,500 bucks and you have to to have to pay for your bag. You have a family of four and you have 5,000, 6,000 bucks for it. So it is expensive, right? But people really want to come. We have half our customers from from Argentina that was joking about, like, say, you know, on a summer is going to be good but we can imagine Dad talking to their sons like hey, enjoy this one because you might be going to your grandma's house and I said, you're not getting a second one. I agree with that. I think. And and that's going to be the case.  

[00:11:05] Sally So it's so interesting to hear the various logistical changes that go on behind the scenes created by the pandemic that people may not even be thinking about, like the shift of moving cars to neighborhood locations instead of airport rental car pickups. Which makes sense because if you lived in an urban environment during the pandemic, what a sense of freedom to go down, get a rental car and travel safely and just feel great about being able to get out. And I would imagine that this constant monitoring of travel behaviors changes regulations. It's been quite challenging, but it's been the right move because they're meeting the traveler's needs where they want to be and how they want to travel and use rental cars.  

[00:11:43] Brandon Can you imagine being like fleet management for a rental car company during COVID? At first you're probably like, what am I going to be doing? No one's traveling. And then all of a sudden you're like, oh my gosh, I have to move all these cars to neighborhood locations and reallocate our fleet. Probably a pretty big 180 they did one day in the office. It's incredible, right? If you look at their rental cars, like I think that as we look back and how ridesharing had really, you know, was on the rise and we saw the younger demographics really saying, do I even need a car when I'm traveling? And the answer a lot of times was no. But then we see that same younger demographic really embraced the rental car, really take it to empower themselves to go travel. So it's been a complete shift for the rental car industry and I think a great opportunity to engage a demographic and generate loyalty with an audience that really hadn't experienced the product.  

[00:12:36] Sally Yes, absolutely, Brandon. And his next point about sustainability are really interesting as well. Let's go back to the interview and hear more about that from him.

[00:12:47] Brandon Avis budget group has announced this year that their intention to move away from the internal combustion engine and more towards an EV fleet which solves your fuel problem. You tell us more about your drive to sustainability, pun intended.

[00:13:00] Ricardo So we acknowledge that cars account for like 15% of global greenhouse emissions. So it's a great source of air pollution. And transitioning to a low-carbon economy is another significant business opportunity for the company. We already have a large fleet of hybrid and EV cars globally, and 85% of our fleet is rated at 26 miles per gallon or better. 37% is the EPA, EPA smart way certify and 25% of our fleet in Norway and Sweden is hybrid and electrics. And the one that collective EV and I didn't know this one Zipcar. We have over 1 million members in Zipcar. For every Zipcar that we have, up to 13 or 14 personally owned cars are taking off the road. And then, you know, you come to good, you go back to EV, which is, you know, it's an important trend. Government is investing in electric cars and infrastructure. And and I would go with the CEO side and you will see ABG going forward to be much more an active in electric scenarios as this situation develops, right, and I tell everybody look, it doesn't happen overnight, right, I know because you have a massive infrastructure that needs to take place.

[00:14:23] Sally I think it's great. And we've talked before on a previous episode just how sustainability drives a lot of consumer decisions, more so than it ever has before. So, I mean, diversifying the fleet and even just talking about the segmentation that you have coming in and who's purchasing the cars, sustainability is certainly important. So that's really exciting. And I love the Zipcar stat. How cool is that?

[00:14:45] Ricardo So the whole approach that we have is we think of mobility in this like think of mobility in this cycle, right? And it's okay for you guys to take an Uber from home to the airport. And and then when you go to, I don't know, L.A.X. and you take an Avis car because you're going to need that for two or three days, then you come back and you go back home and you are maybe a Zipcar member because you use that to move within your neighborhood and then you want to go to Orlando and you are Budget rental because you want to be in a minivan and you want like a little cheaper price or whatever. Then, you know, you go back and I don't know, in Miami you do have this train now that it will take you from Fort Lauderdale, West Palm Beach and Aventura to Orlando. Our whole approach is, look, we just want to be part of the decision-making process, right? It is a cycle that you you know, I know, and you have many options to move around and Avis budget for us our goal is just to be a fundamental part of that cycle and that's the reason we have a partnership with our ride hailing company starts to reason when we have seamless integration of multiple transportation options is what we aiming for. And then eventually, you know, I know it's going to be a part of it as well.

[00:15:53] Sally It's great because you're thinking about the traveler and in many cases it's the same traveler, but different use cases of how they live their life, both with work or personally or how they're going to use the vehicles. I like that. And then you fit in along the way to meet what travelers need. And sometimes it's a different traveler, sometimes it's the same. I think that's really powerful. And when you talk about those partnerships, I love that too, that's something I wanted to also chat a little bit more about, like how you choose those partnerships. And for you, it really talks about how the travelers are behaving and what they want to do and how they move in that mobility circle you were discussing. How do you think loyalty fits in as well? You know, building that loyalty so that Avis Budget Group fits in in all the scenarios for people in there it's their first choice.
[00:16:43] Ricardo Being from sales I'm lucky enough that we have a great top of mind, and that's important when you think about top of mind and Avis has been around for 70 years. We put out well-known campaigns like the Avis, We Try Harder campaign so everybody recognize the brand we are in 100, 180 countries. So everywhere you go, you know, for work or, you know vacation you ended up looking at an Avis brand. And plus we have, you know, cool partnerships like the one we have with the PGA. And so it provides great exposure. And in addition to that, you know, I think equally important or even more so, you know, the partnership that we have with you guys, you know, because you provide distribution on a global scale and you allow us to reach an audience at a global scale with different age brackets, different buying behaviors. Every person going to Expedia, you will see the Avis brand somehow. Then and how we define those partnerships, you know, i.e., I go back to our vision as a company, we define, you know, what is it that somebody wants to do mobility as being completely connected, integrated and on demand. Like maybe, I don't know, ten years ago we used to say, we want you to be an Avis customer because you are at this, this and that, or we want you to be a Budget customer because you are this, this and that. Now we acknowledge that you can be an Avis, Budget, and Zipcar customer at the same time. And again, the combination of that top of mind and distribution that we get to people like you guys and being able to position the brand what it's supposed to be and we create that a streamlined transportation option or experience. Think of it as kind of like a reactive marketing strategy. Like we used to do, we used to talk about targeted marketing. We targeted you, identify an audience, and then we're going to go out to you. That's fine. And this reactive marketing is now like, you just positioned yourself in a way that makes sense through your partnership and through distribution channels, and then you end up being, you know, a top of mind and a brand to be used by your customers.   
[00:19:00] Brandon Ricardo, I have a question for you. And I could be off base, and you can correct me. I think one of the top benefits of being loyal to a car company that you get to often skip the counter and to show up. Is that true? Is that like one of the top benefits travelers signal as being important to them?  
[00:19:15] Ricardo Maybe to be more specific like, people want to get to your car or, you know, as fast as possible. And, yes, you have the capacity to skip the counter. You can you you can do that by signing up to a preferred service. Is is a big plus. Honestly, I don't know why 100% of the people don't do it. Like, if you ask me, you know, it's something that you cannot live without. It will be my cell phone, you know, because of email or I'm not even on social media yet because I have everything on it. Like I have my QR code so I can exit. I have, you know, I refer with everything so I can bypass the counter. Even the hotel industry, you know, when you have that kind of, you can open your door with your phone. I don't know why not 100% of the people is using that.  
[00:20:06] Brandon Here's why I brought it up. It's really interesting to me. And Sally, I'm keen to hear your opinion here, too, is it feels like within car rental, like the loyalty benefit is around efficiency and that the same cannot be said for hotel and air. And I think the challenge with hotel and air is the benefits customers seek have a cost. Either, you know, a trade off costs or an actual hard cost. And with car, it's really like, yep, it's great to get a car class upgrade if you want to drive to Arizona in the convertible, but you can also pay for it. And the key is like, hey, I just want to get off the plane or to the car rental agency and out of the gate with my car quickly. And I think that's just an interesting construct. And you know, kudos to Avis Budget Group for leaning into it.  
[00:20:46] Ricardo I think it's the coolest benefit. I guess people is more used to all these benefits to earn at the hotels and earn. Part of the leisure group, part of the people to drive for leisure you see the car rental experience as a complement, just like a means to move me from A to B. We get in more people. You're not going to drive the same car that you have back home. Try to drive something different, you know, and enjoy that for a little bit extra. Maybe they don't understand the benefit of maybe booking in advance or being able to select your car and that change a little bit through the pandemic, you know? I know. And because you get a lot of people just going into specific location and you you used to see long lines because, you know, you have this high concentration of people showing up at same time. So people began and, you know, to to maybe plan ahead a little bit more.  
[00:21:38] Sally And I think it's interesting you bring up booking windows, too, because I think that's how I have changed my behavior through this whole pandemic of of the trips that I've planned where I've needed a rental car. Maybe few years ago, I would have booked my air and my hotel and then thought, I can get that rental car closer in. But now the minute I secure that air or hotel, I am booking the rental car because I need it. Especially I do a lot of like multigenerational trips, like my parents, kids. I need the bigger car, so I'm going to lock it in in advance. And you know, I don't know if you're still seeing that, but that's certainly something that's changed for me.  
[00:22:13] Ricardo Yeah, it is I agree. Yes. And and again, is going back to our our generation change and people in the past maybe they were more used to just showing up. And I said, but now you get more of of planning. We've been talking about like people should book in advance and capacity is still a challenge. We're much better. But even airline capacity, you know, domestic capacity is down 7, 8, 9% versus 2019. International capacity is double it's down 15, 20% versus 2019. So that also applies for car rental. You know, it's going to get better as the supply challenges start to ease up and and better accommodation. If people try to book early, try to, you know, and to do your planning properly so you can enjoy your your summer vacation.  
[00:23:03] Sally And, you know, with air cancellations and just how crazy that space has been in the last couple of weeks, travel is, to your point, I think there's a strong intent to travel. You're feeling very optimistic about the summer. But I think the big takeaway is prepare, make the reservation and get everything lined up so you can have the best possible experience.  
[00:23:25] Brandon Shall we jump into the fun segment of recurring questions? I'm excited for this one, Ricardo. What is the best rental car that you've ever been awarded or that you booked?  
[00:23:31] Ricardo Yeah. I don't know I'm more about big SUV's, BMW or the Ford Explorer. And right now have a nice Chevy Traverse and I'm for space now.  
[00:23:48] Brandon Very cool. What's the summer trip schedule looking like for you, on a personal level? Any leisure trips coming up? 

[00:23:43] Ricardo Oh Brandon, I'm not going anywhere. 

[00:23:45] Brandon What? 

[00:23:49] Ricardo I have a good excuse, I'm having a baby in like two months 

[00:23:52] Sally Congratulations! 

[00:23:54] Ricardo Thank you and we might I think we going to Bahamas this weekend just because it's a half an hour away from us and it's pretty easy. Then we are going back to Georgia and I don't think my wife is allowed to travel. And after next week something like that. So I guess it's going to be Miami for us. 

[00:24:17] Sally Not a bad place to be. 

[00:24:19] Brandon I do love that like, yeah, I'm going to the Bahamas for the weekend, you know
Everybody will say, oh Bahamas is really half an hour away like you can jump from here. And so from Seattle I can see that being a long way. For us it's pretty easy.

[00:24:37] Sally It was so good to meet you, Ricardo.

[00:24:38] Ricardo Yes, thank you so much.

[0024:39] Brandon Awesome.
[00:26:54] Brandon Once again, we've maximized our time with our guests. We had a great interview. We covered a lot. It's really interesting the parallels of reducing friction that we heard from both Darren Scott in episode five from United and then Ricardo here today. Both of our last two guests have really drilled into that overall engagement with customers. When you think about the travelers' experience, the flight and the rental car has a major impact on not only their trip, but if they come back as loyal customers. Again, there's so many opportunities for friction and it's great to see airline and car partners alike really investing in that experience. I mean, just look at the ease of picking up the rental car today. You set the wait in a long line and now you can just skip right to it. Sometimes you can select your car in the app and all of these things you can do and book in advance and really feel confident about your experience today of that travel. Because if I know one thing, it's when you're putting the rental car experience in the back of an airline experience, there are a lot of things that can go wrong. But with these companies investing in technology, we've seen a lot of improvements for the traveler experience.  
[00:27:55] Sally Absolutely. Brandon, so true. This this traveler-first mindset is coming across from a lot of our interviews and that's just so great to see. But Brandon, I heard that you had a chance to go to the Indy 500, which, if you didn't know, is the largest single-day in-person event in the world. So what were you doing there? First of all, who did you talk to and did you get a chance to drive one of the cars?  
[00:28:21] Brandon Great questions. I'll go in reverse order. They would not let me anywhere near any of those cars ever, so. No, but I did have a great time. So I met a driver, Stephan Wilson, a couple of years ago. We've stayed in touch with help each other with business opportunities. And the past two years I've helped that team book their travel for the Indy 500. So I spend all year making sure that their guests and their VIPs have a great time. In exchange for me being able to say, we are trying to win the Indy 500 this year. So I have a very small role in that team. But we did get to meet with two drivers, Stefan Wilson, who drove in this year's 500, and then James Hinchcliffe, who won the pole, which means you start first in the race. Previously for the 500 he has transitioned as the NBC sports analyst now. So he's no longer in the car, he's in the booth. And if that name sounds familiar, that's because he almost won Dancing with the Stars a few years ago. So two great interviews with Stefan Wilson and James Hinchcliffe. All right. We're here at the Annapolis Motor Speedway with Stef Wilson. Stef, tell us what you're doing in Indy this year.

[00:27:12] Stefan We are getting ready to compete in the hundred and six running of the Indianapolis 500.

[00:27:19] Brandon Absolutely. What car will you be driving this year?

[00:27:20] Stefan We'll be driving the Cusick Motorsport Nyjah number 25, Chevrolet.

[00:27:27] Brandon Your manager, Anders Krohn, and you rent two cars. Who wins in a lap around 465 in Indianapolis?

[00:27:35] Stefan I actually think Anders would win that win that lap, you know. Yeah, he's a bit of a demon in a rental car. Whereas I have my name and reputation to think about when I'm driving a rental car.

[00:27:48] Brandon All right, so you drive a lot of rental cars. Tell me a couple of benefits that you enjoy by having a loyalty to a rental car company or a place where you can get rental cars.

[00:27: 55] Stefan Yeah, usually I'll be using Avis. I'm an Avis preferred member, so I love the fact that I can just skip the line and just go straight to the rental car.

[00:28:06] Brandon What's the most common rental car that you've rented and what's the best rental car that you've ever been given?

[00:28:11] Stefan So I think if I was to just pick rental cars, it would be probably the Toyota Camry or the Chevy Malibu, pretty standard sedan. As long as it's got Apple, CarPlay, that is a big win. And one time I was actually in Phoenix for Media Day. They like upgraded me and put me in like a Mustang, a Ford Mustang.

[00:28:38] Brandon The power of an upgrade. Awesome. You're a hotels.com gold member. Thank you. Bucket list trip that you plan on redeeming all those room nights with?  
[00:28:47] Stefan We've been to Maui before, and it was just such an incredible experience. You know, really loved scuba diving and just seeing that aspect of the world. So I think I would have to even go back to back to Hawaii somewhere in the off season or maybe even go even further west in the Pacific, maybe hit up the French Polynesia area.  
[00:29:10] Brandon Awesome. Last question. After the Indy 500, the first trip you're going to take is? 
[00:29:15] Stefan Back to Colorado. 
[00:29:18] Brandon A road trip back to Colorado. Alright, Stef, thanks for your time.  
[00:29:23] Stefan Thanks, Brandon.  
[00:29:27] Brandon Over here at the Indianapolis Motor Speedway, the Powering Travel podcast by Expedia Group here with James Hinchcliffe, the Indianapolis 500 Polesitter Indy Car winner, best known for being a pretty good dancer on Dancing with the Stars. What else do you do? 
[00:29:41] James No, that's pretty much it. I do, I talk a lot. That's what I do now. They pay me to talk. 
[00:29:45] Brandon You also do a little traveling, I hear. So let's talk some rental car experiences. Best rental car that you've ever been given? 
[00:29:50] James Oh, that's a that's an interesting question. I was once, so I'm like, I'm pretty cheap. I'm just going to throw that out there. I'm really cheap. So I always like book the cheapest option on there. Every once in a while you kind of get that. So at one time I got like a I don't know if it was an Escalade or maybe it was a Tahoe. It was like some super nice big SUV. What I paid for like a Suzuki Swift. So that was nice. And one time I got a convertible Camaro like SS, which I had a little fun with. I'm not going to lie probably why I haven't gotten one of those again since.  
[00:30:23] Brandon You're definitely blacklisted on whatever rental car side that was. You're also the analyst, the honor analyst for NBC Sports who do a lot of traveling yourself from Canada. What's a destination in Canada that's a little bit off the beaten path that you'd recommend? 
[00:30:36] James Man, Lake Louise, going up in Alberta there in northern Alberta. It is so beautiful up there and I've not had enough time. I've not spent enough time up there myself. So I'm planning on getting back up there with the wife as soon as I can in the summer. In the winter, it doesn't matter. You know, if you're a skier, it's obviously great in the winter, but it's beautiful in the summer, just kind of up in the mountains there. So I highly, highly recommend Banff, Lake Louise area for sure.  
[00:31:01] Brandon Cool. So you're driving to Lake Louise, you rent the car. What's the best feature around car loyalty program could provide you? 
[00:31:07] James Oh, wow. Well, I mean, definitely being able to just kind of walk off the plane straight into the car that I remember when I was younger, kind of first started traveling a lot, first being old enough to rent a car of my own. I landed in Orlando and it wasn't part of a loyalty program. And I stood in a line for two and a half hours. And while I was in the line, I signed up for every rental car loyalty program that existed. So I never had to make that mistake again. So that's pretty good. And you know what? I would really appreciate it if once in a while they just chucked in like free XM Satellite radio. Not going to lie.  
[00:31:43] Brandon Especially because you listen to IndyCar. Yeah, there we go. Double plug. All right. Last question for you. You're an Expedia Group loyalty member. Are you Hotels.com or Expedia? 
[00:31:53] James Expedia for me.  
[00:31:54] Brandon Expedia for you. Alright. So you've obviously racked up some points. Bucket list trip when this crazy month of May is over? 
[00:32:02] James Fiji. The wife and I've always wanted to go to Fiji so I feel like I don't know if I've saved up quite enough for the whole trip but like I'm definitely getting, I'm definitely getting some upgrades because of that. So yeah, I think that's where we're going to go.  
[00:32:14] Brandon Awesome. Thanks a lot for your time, James. Good luck this month.  
[00:32:16] James Thank you so much. Appreciate it. 
[00:32:17] Brandon Alright. Two great interviews. Now, Sally, I've got to ask you a question. Knowing that James Hinchcliffe was both an IndyCar driver and on Dancing with the Stars, I'm going to ask you this question. You have to do one of those two things, either dancing on live television or driving a race car at 230, which is 370 kilometers an hour. Which are you choosing?  
[00:32:42] Sally That's a great question, Brandon, and maybe you'll be surprised by my answer here. But Dancing with the Stars all the way, I think that would be it. So fine. I don't know if I get eliminated quickly, but I wouldn't care because it just looks amazing.  
[00:32:55] Brandon I would not choose that in a million years. But that's why we're different and that's why we're good together.  
[00:33:01] Sally Thanks for listening for this whole season. We are lucky to have such loyal listeners and if you know a friend who would love to binge the podcast, make sure to share it with them too. And thanks to all of you who sent feedback and shared the show, it was so great hearing from you and stay tuned for what's to come next. We hope you enjoy this episode of Powering Travel. We want to hear from you. So connect with us at Powering Travel at ExpediaGroup.com. Subscribe to get notified when new episodes are live and be sure to rate and review the show. A huge thank you to everyone Powering Travel. Thanks for listening.  
Meet your hosts
Sally and Brandon love keeping up with the latest news in travel. They're on a mission to interview experts across the industry about what's trending — and they can't wait to share what they learn with you. 
Sally Smith
Expedia Group Senior Director of Market Management
Sally launched her career in 2005 with Starwood Hotels & Resorts and joined Expedia in 2012, where she's earned a decade of experience in hotel revenue management and sales strategy. Sally's passionate about travel — and about technology's potential to benefit the industry. She lives in Lake Tahoe, CA, with her husband and their two young children.
Brandon Ehrhardt
Expedia Group Senior Director of Partner Programs
Brandon spent the early days of his career designing revenue management strategies for United Airlines and currently heads up our platform loyalty program. While with Expedia Group, Brandon has played an integral role in scaling our loyalty program, launching research projects, and leading strategic initiatives. Brandon currently resides in Chicago, IL, with his wife and a rambunctious toddler.
What would you like to hear next?
Have ideas for new episode topics or guests? Tell us your suggestions or feedback. We're all ears.
Was this page helpful?
Tell us how we did so we can improve our site.