"What's going to define those who survive this period of change in the industry — and those who don't?
Welcome to the premiere episode of Expedia Group's Powering Travel podcast. Join hosts Brandon   and Sally Smith as they sit down with Dennis Schaal, founding and executive editor of Skift — the go-to source for travel industry news.
Tune in to hear Dennis share his 20+ years of expertise in the travel sector as he discusses challenges and opportunities for the hospitality industry — including what today's travelers want, staffing shortages, the QR comeback, and what's to come in this new chapter for travel and tourism.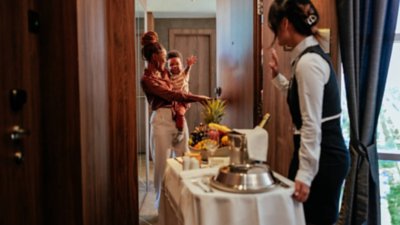 [00:00:04] Brandon The travel experience is powered by all of you. Welcome to Powering Travel. Brought to you by Expedia Group. Together, we'll explore how experts are evolving the industry and discover the latest trends in hospitality. So find your seats, stow your laptops. We're number one for takeoff. Powering travel is next.  
 
[00:00:26] Sally So excited to be here with you, Brandon. I know we've worked together for a long time. We've known each other for many years. I never saw us hosting a podcast together, but yet here we are.  
 
[00:00:36] Brandon And how exciting is it to be? I won't lie. When I got the call that there was a podcast being developed I secretly hoped that I would be chosen. And honestly, when I saw a list of names, you're at the top, you've got so much industry experience and gosh, don't you need it? The past two years, working and travel feels like 20. I'm really excited about this podcast. We can keep it fun, we can keep it light, and I'm really glad to be doing it with you.  
 
[00:00:58] Sally I know you've worked across the industry, including United Airlines, and now you're in the loyalty space for Expedia Group. So big question, why do you have such a passion for working in the travel industry? 
 
[00:01:09] Brandon Well, first off, I don't want this to pop up in the review, so I'm just going to head it off at the pass. I was a very mediocre revenue management analyst and strategist for United. I had a couple boo boos, including one time over the holiday season, the very busy holiday season from Newark to Punta Cana. When I overbooked a flight, it was a 737 and I overbooked it so much that they had to put a 767 on it, which is roughly double the size. And it was great. I was feeling good taking care of this huge problem I had that was weighing on me until the plane got to Punta Cana and no one knew how to open the door because it was so different. So yes, my airline revenue management experience may not be something we lean heavily into, but I am passionate about the loyalty space and there has been so much change, especially since COVID feels like everyone's restarting their loyalty program. The good thing about loyalty for me is like I get to work in something that I like to benefit from. So it's not that we go out and design programs just for me, but at the same time I always put the travel lens on it when looking back at research. I think loyalty is going to be a space that's very exciting for years to come and something that you definitely have a background in too. I know that you worked at this company called Starwood. Tell me more about your experience in the lodging industry and how you transition to Expedia.  
 
 [00:02:22] Sally Thanks, Brad. And funny enough, I also started in revenue management and like you oversold that plane. I know how to oversell a hotel and not panic. It's one of my hidden talents.  
 
[00:02:31] Brandon Oh, I definitely panic. So you're better than me. 
[00:02:35] Sally It'll wash, right? Yes. I worked in the industry for quite some time. And I think, you know, even if you look back how much it's changed, it's quite incredible. When I started many, many years ago, one of my roles was to update the third-party distribution rates and availability for the property, a large property with 20 plus room types. And we weren't connected back then. So whenever I had to update the strategy for revenue management, I'd have to grab a giant cup of coffee, sit behind the front desk and for eight, 10 hours update rates for every single day of the year. And I had to do this manually, and I'm sure I made a mistake or two. In fact, I know I did. I think some people got some really good rates, maybe $29 instead of $299. You never know. But now if you look at it, you can move so much faster. You're not sitting there updating rates manually anymore. You're moving quick. Distribution has accelerated revenue management tools and software has accelerated, and it's been just incredible to watch and see. So anyway, I think that one of the reasons I've stayed in the industry so long is because it's always changing and evolving and I love that it's always evolving.  
 
[00:03:42] Brandon And you bring up the rate errors. It feels like technology's fixed that, which is probably for the best. But gosh, I did love jumping on like $160 weekend fare from Chicago to Stockholm, did that with a group of buddies, and it was the shortest weekend and also the longest weekend we've ever had. We're just so happy to be here talking about something we're passionate about, which is travel, and you're not going to have to rely on our knowledge. We're going to bring in some A-list guests from the travel space. And boy, do we have a slate of them. We start with one of the best, one of my personal favorites. He's a reporter. His name is Dennis Schaal. Sally, tell us who we're going to be talking to first.
[00:04:18] Sally Absolutely, Brad. I'm super excited to have Dennis on the show. So Dennis focuses on reporting about online travel and short-term rentals. In 2016, he wrote the definitive oral history of online travel, and he's been covering the sector and interviewing its leaders for more than 20 years. He formerly wrote a USA Today column about travel websites and apps. A father of three, Schaal lives in Rincon, Puerto Rico. You'll be surprised to hear the broad range of topics we cover with Dennis really applicable to the entire industry across all lines of business and exclusive insights on where he thinks the industry is headed next.
 
[00:04:56] Brandon Gosh. And if you think traveling with two phones is a feat, wait till you hear what Dennis does. It's a great interview. Let's jump into it. Dennis, you're one of four people that I have Twitter notifications set up for. If I didn't, I'd still get the message from my mom. She likes to email me your stories. Basically all the stories from Skift, she's a subscriber herself, so we're really glad to have you with us on the Powering Travel Podcast today. Thanks for joining us.
 
[00:05:22] Dennis Hey, Brandon, I totally don't believe you about your mom.
 
[00:05:26] Brandon I will prove it. I swear I will absolutely prove it. Trust me. She sends the good and the bad.
 
[00:05:32] Dennis And the ugly.
 
[00:05:33] Brandon Indeed. I think let's just start off with something else. It's a little bit of a lighter topic, right? So tell us about Skift, you're employee number two. It's obviously one of the most influential sources of travel news in the industry. You've seen things evolve. You've seen trends come and go. How has the industry changed and what's your core goal with the outlet?
 
[00:05:51] Dennis Well, Skift means change or transformation in Norwegian and Danish. So we came into the travel media industry wanting to shake things up. You know, we thought that the travel trades were boring, full of jargon. They didn't need to be. So we tried to be conversational in our writing, jargon-free. We try to write for the industry, but in such a way as just avid travelers will also understand. When we started out, I remember being in a co-working space and maybe five CEOs talk to us all year. And now, we said our goal was to become the home page of the travel industry. And we've sort of done that. You know, Skift is a sort of a must-read for the travel industry, you at least have to glance at the headlines in the newsletter every day. So we're really proud of what we're doing. We're about 62 people around the world, India, all over Europe, London, all over the U.S., Hawaii. Puerto Rico. Dominican Republic.

[00:06:53] Sally So Dennis, travel is such a fast-moving industry. How do you keep up with all of it? Where do you go to get your travel news specifically? Because I know you're on top of it.  
[00:07:03] Dennis I think the best thing, the way I get the most stories... Well, first of all, I'm an SEC filing nerd. So when Expedia files a 10-K or a 10-Q, I'm reading this thing on Saturday night, and I find all kinds of nuggets in there that I wouldn't have otherwise found. But in terms of gathering the news and stuff, the best way is to go to a conference and to talk to people, because that's where you find that's where people are comfortable to talk to you and to reveal things to you. And the same thing is true in doing interviews. Like, a lot of times, companies will want to do an email interview, but it's nothing like talking to people. You find out so much more. Also, if people are telling you a trend is going one way? Look at your own data.  
 
[00:07:55] Brandon Dennis, just from my own experience, I've noticed this about you, with the SEC thing. And my first thing is like, how is he reading it this fast? Like, are you control-f-ing for terms or like, how are you doing this?   
 
[00:08:07] Dennis Well, they all have a table of contents. So I go to the elements that I know will matter, like mergers and acquisitions, management's discussion and analysis of the business, legal matters. You know, there's a lot that you can't wade through in there. And candidly, there's a lot I don't understand, you know? So, yeah, I'm control-f-ing and going to sections, you know, risk factors is always juicy, going to sections that I know usually, you know, will bring me something.  
 
Brandon [00:08:38] It's also interesting. You brought up jargon. I think one thing Skift does is they often create the words that the industry uses. I know Skift coined the term overtourism. You know, we noticed in a recent Skift article that you didn't write, but that people can go to attractions of different, you know, quality and have the same quality vacation. How has Skift really embraced the mindset that we need to make sure travel is sustainable?  
[00:09:02] Dennis Yeah, I mean, we're seeing in survey after survey that travelers are more conscious. Some travelers are more conscious. They want to be able to pick sustainable options. The question is, how many of them answer surveys that way and how many of them actually do it? You know, so one thing I think that needs to happen is there needs to be some incentives. It's interesting. In France, Air France now is running train plus air packages so that people don't have to take short-haul flights and ruin the environment, that they combine it with a train trip and a flight, you know, so that's a trend. Why not have hotels hand out some loyalty points? If you forgo the housekeeping every day, you know, incentivize travelers, this will obviously become more and more of a critical issue.  
 
[00:09:54] Sally Yeah, absolutely. And I think it's helpful too when you are staying at a property or flying on an airline to really understand how your choices are making an impact too. I know I talk to a lot of frequent travelers that want to do more of this and they want to understand their impact as well. So sustainability is certainly top of mind and it's a trend. It's a choice. But I'm curious to get your thoughts because you mentioned a lot of things around COVID and what we've seen in the travel space in the last couple of years. If you reflect upon that time or even reflect upon the last few months, really, you know, oftentimes you get first access to something or you get something that's hot off the press. Was there ever a time where you thought, wow, I didn't see that coming? Or I was completely surprised by something that has come out in the industry recently?  
 
[00:10:43] Dennis You're going to laugh. It's sort of trivial. It's not really trivial. But QR codes, we had written them off for dead a long time ago. One of my colleagues said, you know, QR codes, the most useless thing that was ever invented. Now you can't go to a restaurant and read the menu without a QR code. You know, they've become integral to the travel experience. That's one. Hotel chains getting into short-term rentals, you know, Marriott homes and villas and Accor buying one fine stay. So actually we're having a conference coming up a couple of weeks after your conference where for the first time we're bringing together hotels and short-term rental companies together in one conference because everything is blending so much. So I guess those are a couple of things. 
 
[00:11:35] Brandon Dennis, quick question on the vacation rentals that you just double clicked on, do you think that companies are investing in vacation rentals when they've traditionally been in conventional lodging because they think that customers are desiring choice? So is it a profitability decision or is it one where they just want to expand what they're offering to ensure they're capturing more travelers and bringing them into their own loyalty programs?  
 
[00:11:57] Dennis I think it's catering to travel choice for the most part, because in some respects, compared to the hotel business, vacation rentals can be less profitable. There is a lot more customer service that goes into supporting vacation rentals. You know, the guest shows up and the lockbox isn't working or the vacation rentals are so different from one another. It's not what was in the photos or whatever. So I think it's mostly catering to traveler choice.  
[00:12:30] Brandon We're predicting that, you know, the summer travel period is going to be incredibly busy. And I think one of the things that will challenge that is the availability of staff, not only currently in the hotels and in the vacation rental space, but with, you know, air and cruise as well. How do you see the potential labor shortage in some of these areas impacting this very busy summer of travel? 
 
[00:12:53] Dennis U.S. airlines are already announcing cutting back on capacity. I'm not sure cutting back on capacity, but they're going to be operating, for example, at perhaps 80% of the capacity of what they did in 2019, because they don't have the personnel, they don't have the pilots, they don't have the flight attendants. So I live in Puerto Rico. I was at a pretty happening bar restaurant on a Saturday night last week. The restaurant closed the kitchen at 6 p.m. because they didn't have enough kitchen staff. So many companies have been just trying to survive. So many hotel companies have had to cut back on services. The restaurants are closed, the housekeeping is minimal. I think they're more in survival mode than in investment mode at this point. But hopefully as the travel industry comes back, they'll be able to devote more resources to that.
[00:13:53] Sally So I think it's interesting that Dennis brought up QR codes and I don't think it's silly at all. It's really true because it's been our lives the past couple of years. Menus when you're traveling. I was just at an airport traveling to Las Vegas last week, and not only did I get the QR code to see the menu, but I ordered through the QR code and paid through the QR code. It was so easy and quick, especially in an airport where you're really not dining for long, you need to get in and get out. And so I'm seeing them all across hotels, restaurants, transportation, marketing. They've really been adopted quick and it's funny because they've just been out for years but never, ever taken off like they have recently.  
 
[00:14:31] Brandon The QR code. What a comeback. Like really I think Patriots 28-3 trailing the Falcons in the Super Bowl and the QR code. Those are the two greatest comebacks of our lifetime. I'm not a Patriots fan, to be clear, but yeah, I Sally, I totally agree. And I think where QR codes really create value in the travel space is, you think about the staffing challenges, you know, when you can order through a QR code, you can pay through a QR code. That's one less person that you need to have on staff. Not to say that we shouldn't be staffing the industry fully, but what I'm saying is really we're making the process more efficient so you can free up that person to do something maybe a little bit more strategic. And I think with QR codes to put this one to bed because it certainly has gotten a lot of conversation during this period of COVID, is when you think about the experience that a QR code creates, it's seamless. And I think that's what we want travel to be, seamless. So there's actually a lot of things that we can learn from that old dinosaur, the QR code that almost didn't make it. Maybe we should even be happy that it had such a resurgence because it taught us things about efficiency and online commerce. And I know I just had a similar experience. It wasn't via a QR code, but I could not get an online order to take for a restaurant. And once I went to my mobile phone instead of my desktop, it worked right away. So I think there's something to be said about evaluating efficiencies and how the interplay is with staffing. But gosh, there was a great set of commentary from Dennis. 
[00:15:59] Sally When we talk about summer travel and demand...and certainly one of the things I've been pleasantly surprised with over the last two years is the resiliency of travel. Obviously, there's been a lot of ups and downs, but in general it's been great to see a lot of folks still investing and traveling. When we talk about rising fuel costs and your mention on airline capacity being cut in many ways, but then there's still this demand and oftentimes that leads to higher prices all around. So the trip cost is going up. How do you see that affecting traveler behavior - unaffected or not? What's your take?  
 
[00:16:34] Dennis Yeah, I mean, there's so much pent-up demand. I think people will travel. But we're seeing right now, I think in March, the inflation rate in the U.S. and basically in Europe was around 8%. And one thing we've also noticed is during the pandemic, there hasn't been the amount of discounting that you would have imagined. So that's going to affect people's choices. I was looking today at Similar web data, and they found that despite the Russia/Ukraine war, the tragedy that is that the UK and EU travel demand is growing with traffic to the major travel websites in Europe, up about 15% in March. It's horrific what's going on in Ukraine, but it hasn't deterred people from getting on a plane and making their trip plans.  
 
 [00:17:26] Brandon You've written a lot recently about new competitors into the travel space. What do you think is going to define those who survive this period and those who do not survive this period?    
 
[00:17:37] Dennis Meeting traveler needs and being in touch with, you know, the latest trends. So like, for example, one company to keep your eyes on is Sonder. For those who don't know what Sonder is, they started out as short-term rentals, and now they're trying to build a hospitality brand. They claim they're disrupting the hospitality industry, but by automating a lot of their operations, like if you check into a Sonder, you're not going to see anybody from Sonder. You know, you're going to text them for customer service issues. And they claim to be taking out a lot of costs, but they're really catering to the younger traveler. On the other hand, if you talk to big brands like Marriott and Accor, they think that high touch in hospitality, true hospitality, is going to be what wins the day. So it'll be interesting to see how that plays out. Of course, Sonder has a lot of money at its disposal. You know, it was well-funded. It just had, you know, some gigantic net proceeds and its IPO or SPAC, however they went public. So you have to have ample resources. You have to have a great plan, listen to the customer and then see how the market reacts.
 
[00:18:59] Brandon In zooming out a bit from that into companies that, you know, historically haven't been in travel...you know, we've seen Uber enter the space. It's always rumored that Amazon is going to enter the travel space. You think about like the super app where you could book, you know, you can buy a roll of paper towels and book travel. What would be your opinion on why those have not been as successful recently or have not really had the staying power in the travel industry?  
 
[00:19:25] Dennis They're fairly successful in, you know, China and Southeast Asia. But I just recently wrote an article about Uber. They haven't even launched hotels and flights yet. They're going to do it, you know, in several months. When you start planning your travel, do you start with, okay, what shuttle am I going to take from the airport? Well, first you've got to figure out what airport you're going. You start with your flights usually. So I'm highly doubtful. I know a lot of people were like, oh, my God, Uber is getting into travel. But at the same time, you know, I, I think it's a big lift that people are going to be booking complex vacations and business trips through Uber.  
 
[00:20:09] Sally I think there's been a lot of players that have come in, and I think it just shows the size of the ecosystem in travel and what money can be made. It's just been fascinating to watch even coming out of the late pandemic, people getting into the game. So I'm very curious to watch, see how we can help. It's actually a good segue because we're talking about the future. So in your mind, if you're looking down the road, what is the next best thing? What are you excited about that you haven't written about yet? What do you think we might see in travel that might be the new and exciting thing five years from now?
[00:20:41] Dennis I don't think it's going to be the metaverse necessarily, but it could be something that we don't even imagine today. I went to London a few weeks ago for a conference, our company's conference, and my two cousins there were both driving electrical vehicles. They said that about 30% of new car sales, something like that in the UK are electric vehicles. So I'm looking forward to that. I'm looking forward to seeing electric charging stations at every hotel and that becoming a big thing. This is not the next big thing. But here's the next controversy that I might write about that I haven't written about, and that is cleaning fees and short-term rentals. It's about to explode. They've been rising dramatically. And I know a lot of hosts are having a debate. Should I include my cleaning fees in the rate or should they be separate? Because it's sort of a gotcha moment when you travel, when you get to the end to book your vacation rental or home and there's the cleaning fee, that's like half the amount of the nightly rate. So that's going to be something.
 
[00:21:52] Brandon It's almost as if cleaning fees have become the new resort fee. It's really just for vacation rentals. Like, I think you bring up an excellent point. You go to check out for a vacation rental and then you find that cleaning fee is like 30% of the cost. Do you feel that if there is continuation of those policies, we will see vacation rentals become less popular? Because, you know, obviously to me the price that you see when you're booking the room or booking the house is not what you're seeing at checkout. Do you feel like that will impact the demand to vacation rentals?
 
[00:22:25] Dennis I think people will be more choosy about which vacation rentals they book because a small number of vacation rentals now don't have a separate cleaning fee. They're included in the rate. I was reading a thread from one host the other day and she said she would never book a rental that has a separate cleaning fee. So I think you're going to see people be more selective. There's also the issue that if you have to cancel your rental, if the cleaning fee is included in the room rate, that you might not get all of the refund that you would otherwise get. Talking about resort fees and talking about, you know, which sort of companies succeeded and which failed during the pandemic. I think with hotels, you know, I know you have a large hotel audience, but I think the ones that are still charging resort fees now during the pandemic, when hotel services are declining, I think that's a fail. And as far as things that are going to be, that can become big, the next big thing, I think you're going to see more and more travel companies get into fintech. It's a buzz word. It means a lot of things to different people, like, for example, buy now, pay later. That's been around for a long time, but that's going to become more popular and so will other fintech services, which are more like travel insurance in terms of let me freeze the rate for this airfare, let me freeze the rate. I'll pay you 25 bucks and let me freeze the hotel rate for a week or so. I think that's definitely going to become a big thing.
 
[00:24:08] Brandon Thank you, Dennis. Great insights today. We really appreciate your perspective on the industry. On a lighter note, we're going to do something a little fun. Switch gears, because while we work in the travel industry, we are all travelers ourselves. So a few fun questions to get to know who you are as the traveler. First one. What is one item you cannot travel without?  
 
[00:24:31] Dennis Sure. That's tough. My phone. That's obvious. Two laptops. I usually travel with two laptops because a lot of times when I'm traveling, I'm also working. One of the challenges when you're working these days is you have to keep track of the company message system. At Skift, we use Basecamp, other people use Slack, and I'm always the one that is missing the Slack message, like I'm the last one in the company to know what's going on. So I bring two laptops, so I'm not going to get yelled at for not responding to messages.  
 
[00:25:05] Brandon You make the two-phone people look like rookies. That's impressive.   
 
[00:25:10] Sally Really exuding the Bleisure trends there. I love it.  
 
[00:25:13] Brandon Yes, I think Bleisure would be your middle name, Dennis. Okay. This one is a fun one that's in the space of loyalty. What's the craziest or most illogical thing that you've done to get a loyalty benefit, whether that was achieving status or earning extra points? What's the craziest thing you've done?  
 
[00:25:29] Dennis I'm not a big loyalty person. I don't go on flights just to earn points. The craziest thing I've done is to – and you won't think this is crazy at all – is to not book direct with a site that I might like their loyalty rewards.
 
[00:25:48] Brandon Very interesting. Lastly, just, you know, one thing we want to highlight is what's the most memorable trip you've taken when you think about your love for travel? What's the trip you think about most that really sparked that love for you?  
 
 [00:26:00] Dennis Galapagos Islands, without a doubt. That was so awesome to see all the critters. You have to go up to the islands. Some of them you can't do dry landings. You have to do wet landings, you have to get out. And the animals, there are a lot of them that are not afraid of humans because of the whole isolation of the Galapagos Islands. So that was really amazing to see. And of course, you get to see the mating dance of the blue-footed booby, which is something that you have see. It's pretty amazing.  
 
 [00:26:31] Sally I love that new bucket list item.  
 
[00:26:34] Brandon Yeah, it sounds like me dancing at a wedding. I don't know that anyone would watch me dance at a wedding. But certainly going to the Galapagos Islands sounds like a lot of fun and certainly is on my bucket list, too.  
 
[00:26:44] Dennis Yeah, it was awesome.  
 
[00:26:46] Sally Great. Thank you so much for answering those. Really appreciate it.  
 
[00:26:50] Dennis Thank you. Thank you for having me.
[00:26:54] Brandon That did not disappoint. I knew Dennis was going to be a great guest and what awesome insight. I got a lot out of that. I hope that you did, too. Sally, you were nodding along, so it seems that you did. And we hope the audience did as well. Most importantly, I think it's encouraging to see that his observations confirm not only that he's really on the pulse of the industry, but what he's seeing in the industry as a whole. I thought the piece on it with the Uber question was really interesting that it's going to be about who adapts to the traveler. And I think that that's really important in our industry, right? If you think about the traveler wins, the travel industry wins, because it means more people experiencing more things, which is also great for our business.
 
[00:27:33] Sally I agree. You know, it's not about the traveler adapting to the industry, but really the industry adapting to the traveler, which is so important. There are also a couple other things that Dennis mentioned that I thought were really interesting, especially around sustainability, a powerful topic, a more important topic that continues to come to the surface. And I liked how he was talking about incentives. Helping travelers to make sustainable choices, but also rewarding them for it. And I think that's something that we'll hopefully see a little bit more of in the industry. The other thing that caught my attention too, was just fintech and the continued investment in fintech and how that technology will also help to serve the traveler and provide them benefits and unlock value for them. So it was great interview, great to chat with.
 
[00:28:17] Brandon Yeah. I think with the fintech piece, what's awesome about that is it's going to enable more travel, especially if you think about the kind of buy now, pay later setup that's really getting more traction in the industry. Travel is good for people and I know it sounds a tad cliche, but it's really true. And I think, you know, the more stamps you have in the passport, the more road trips you take with a family, the more well-rounded you are, the better experiences you have just out and about. And I think that's really critical, especially coming out of this, you know, period of two years we've been shut down in our homes with, you know, maybe just the peloton and occasional like take-out order to keep us entertained. I think it's really critical that we get people back out safely traveling and fintech certainly going to enable that.
 
[00:29:00] Sally I couldn't agree more. If you want to hear more from Dennis, be sure to stay plugged into Skift at Skift.com or follow him on Twitter at Den Schaal. D-e-n-s-c-h-a-a-l. And be sure to set up notifications like Brandon to get the latest.
 
[00:29:19] Brandon We or just maybe join my mom's mailing list, but we will make you subscribe to Skift. It is worth the investment. Thank you so much Dennis for joining and Sally, what a great episode. I'm looking forward to episode two.
 
[00:29:29] Sally We hope you enjoyed this episode of Powering Travel. We want to hear from you. So connect with us at Powering Travel at Expedia Group dot com. Subscribe to get notified when new episodes are live and be sure to rate and review the show. A huge thank you to everyone powering travel. Thanks for listening.
Meet your hosts
Sally and Brandon love keeping up with the latest news in travel. They're on a mission to interview experts across the industry about what's trending — and they can't wait to share what they learn with you.
Sally Smith
Expedia Group Senior Director of Market Management
Sally launched her career in 2005 with Starwood Hotels & Resorts and joined Expedia in 2012, where she's earned a decade of experience in hotel revenue management and sales strategy. Sally's passionate about travel — and about technology's potential to benefit the industry. She lives in Lake Tahoe, CA, with her husband and their two young children.

Brandon Ehrhardt
Expedia Group Senior Director of Partner Programs
Brandon spent the early days of his career designing revenue management strategies for United Airlines and currently heads up our platform loyalty program. While with Expedia Group, Brandon has played an integral role in scaling our loyalty program, launching research projects, and leading strategic initiatives. Brandon currently resides in Chicago, IL, with his wife and a rambunctious toddler.
What would you like to hear next?
Have ideas for new episode topics or guests? Tell us your suggestions or feedback. We're all ears.

Was this page helpful?
Tell us how we did so we can improve our site.